Medicare Part D-Prescription Drug
Medicare Part D
If you're over the age of 65 or you're receiving Social Security Disability (SSDI), it's also time to start thinking about Medicare coverage. There are several different ways of taking your Medicare, but Medicare Part D plans are prescription drug policies. Read on to learn the different options when it comes to prescription drugs and Medicare and how Medicare Part D works with parts A and B.
What Is Medicare Part D?
Medicare Part D is stand alone Medicare drug coverage which are run through private insurance companies. Each plan has the same structure, but the costs of medications can vary from plan to plan.  
Medicare Drug Plans have four phases of coverage.
First phase is the deductible and there can be a deductible up to $505.
Second phase is the initial coverage phase which is when you typically pay a copay for medications.
Third phase is the coverage gap or "Donut Hole". 

Once the total costs on your prescriptions, what you've paid plus what the insurance companies has paid throughout the year equals $4,660 you pay a coinsurance for each prescription of 25%.

Finally the catastrophic coverage phase is when you owe a much lower cost for the drugs, but you don't hit this phase until your out of pocket costs plus discounts from the manufacturer equals $7,400.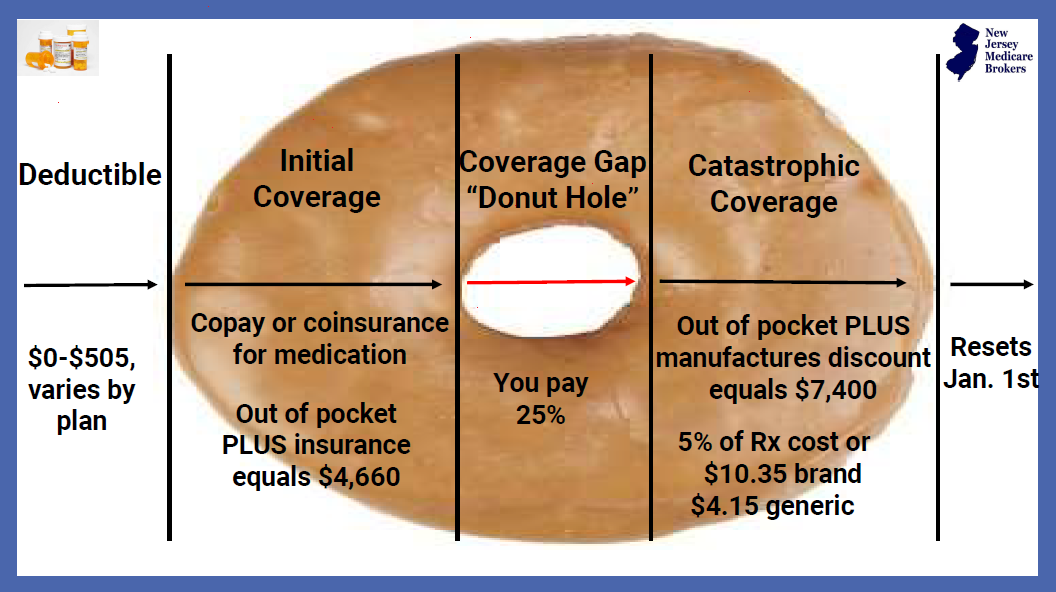 It is important to note that Part D Medicare drug coverage have a monthly premium unless you qualify for extra help through either the state of New Jersey or the federal government. We have more information on the New Jersey PAAD and Senior Gold program here.  There are also copays with most medications, and you may need to meet a yearly deductible.  You cannot enroll in Part D exclusively; you must also be enrolled in Medicare Part A or B.
Notable Features Of Medicare Part D
Before enrolling, there are a few things patients should know about Part D coverage:
Each plan has preferred and standard pharmacies and you will typically pay a lower cost at a preferred pharmacy.
It works with other types of insurance. You can still enroll in Part D if you have Medicaid, private insurance, COBRA, a Medigap policy, or other type of insurance.
Not all medications are covered, and some require prior authorization.
You may have to participate in step therapy, which means utilizing a lower-cost drug first that is meant to treat the same illness.
Each plan has a Star Rating which is updated annually.  The star rating is from 0 to 5 Stars with 5 Star being the best.  

Contact New Jersey Medicare Brokers Today For More Information On Medicare Part D.