Medicare Supplement Plan D
Medigap Plan D
Many patients find that even the most comprehensive of Medicare Advantage plans may not adequately cover their health care costs. Medicare supplement, or Medigap, plans exist to give Medicare recipients the extra coverage they need. These types of supplement plans help with out-of-pocket costs that patients struggle with, such as coinsurances, copayments, and deductibles. There are several different Medigap plans, and Medicare Supplement N covers many common expenses, allowing you to breathe easier.
Differences Between Medicare Advantage And Medigap
You may be confused in comparing Medicare Supplement Plans and Medicare Advantage, and there are some distinct differences. Advantage, or Medicare Part C, is part of either a Health Maintenance Organization (HMO) or Preferred Provider Organization (PPO). Patients pay a monthly premium to have coverage for hospital stays (Part A), doctor and lab tests (Part B), and prescription drugs (Part D). Part C is the combination of A, B, and D; however, there are still out-of-pocket costs like deductibles and copays. A Medigap plan (differentiated by letters, such as Medicare Plan N) allows you to see any doctor or hospital that accepts Medicare.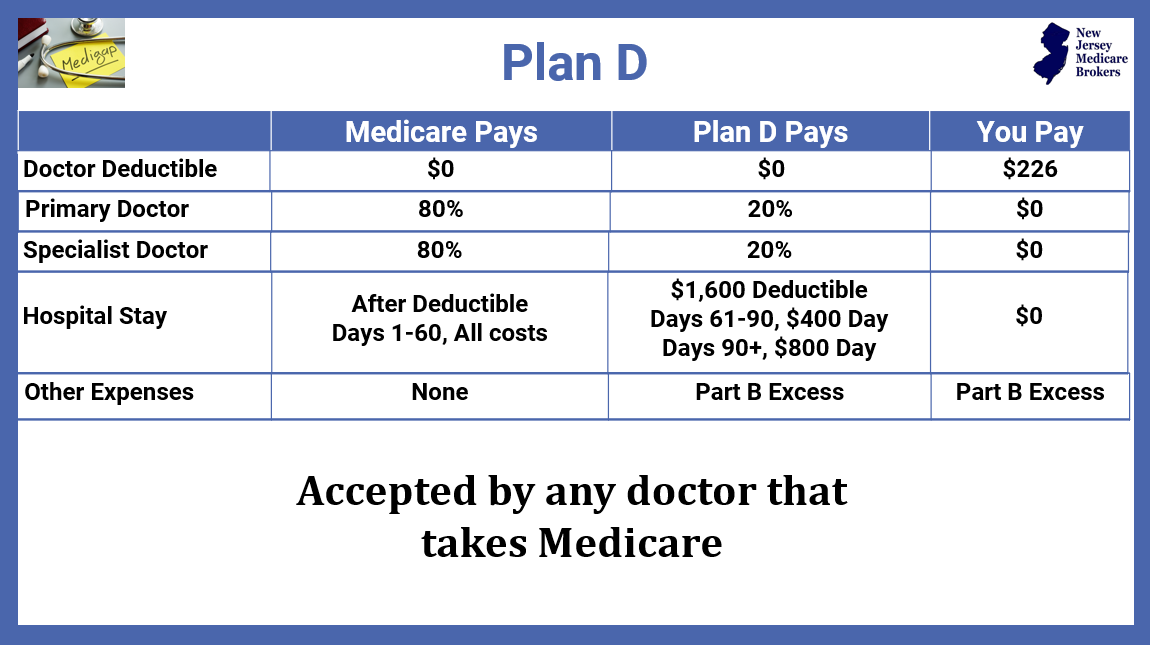 What Does Medigap Plan D Cover?
Each Medigap plan is slightly different. Plan D pays for:
Part A (hospital) deductible
Part A coinsurance (hospital) after Original Medicare benefits are exhausted
Skilled nursing facility coinsurance
Part B preventative care 
Part B coinsurance
Foreign Travel Emgency